V-cube begins offering of "FinTech Adaptor" for financial sector and Fintech service provider
Mar. 16, 2016
V-cube begins offering of "FinTech Adaptor"
for financial sector and Fintech service provider
~The necessary face-to-face online communication tool for Financial products and service~
V-cube, Inc. (HQ: Tokyo, Meguro-ku, President & CEO: Naoaki Mashita, hereon as V-cube) will begin offering of "FinTech Adaptor". This is a face-to-face online communication tool aimed to address the growing need in the financial sector for various use cases and it is also a service that is easily integrated with other FinTech services. By integrating V-cube's visual communication service and other FinTech services, it allows banks and brokers to attend to customers and explain new products from an online platform. Financial agencies can flexibly support customers and realize multichannel retailing for financial services.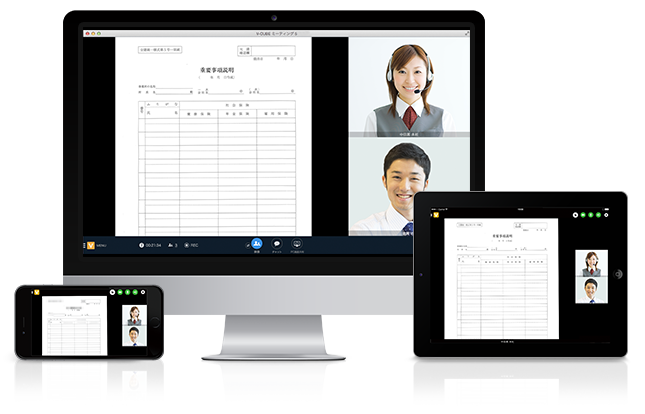 FinTech is gaining a lot of traction even in Japan. Users now have access to many services such as mobile payment, automated banking, etc, all of which proves the concept that banking is becoming heavily integrated with IT. However, explanation and sales of financial products via only the web and apps do not have the same effect as when customers visit banks. Our goal for integrating online communication and FinTech services is to become a necessary part of future FinTech trend.

"FinTech Adaptor" integrates with FinTech services to enable remote consultation for support and sales of financial products. We hope to revolutionize the multichannel banking and the work-style of many other areas in the financial sectors.

[Advantages of "FinTech Adaptor"]
- High quality video and audio visual communication to guarantee security and reliability
- Document sharing feature for contract and introduction of products
- Multi-device support, PC, smartphones and tablet
- Identify verification via video and signing of documents online
- Automatic recording to keep record

V-cube is offering API(*1) and SDK(*2) to match customer needs.

(*1) API (Application Programming Interface): a software service component that allows access, integration and authentication from a 3rd party system. The 3rd party system can have access to data, registration information and so on. This allows integration with complex systems.

(*2) SDK (Software Development Kit): developer/engineer-oriented software component. This is used for vendors to embed V-cube's software into their own.