Announcement: Investment in Rapyuta Robotics, Inc.
Jan. 26, 2015
Announcement: Investment in Rapyuta Robotics, Inc.
~Investment in Rapyuta Robotics, the pioneer of essential commercialization technology for drones~
V-cube, Inc. (hereon as "V-cube") would like to announce our newest investment in Rapyuta Robotics, Inc. (hereon as "Rapyuta"). The investment this time allowed third-party allocation of shares of Rapyuta's $3.51m capital and is led by CYBERDYNE, Fuji Creative Collaboration, Inc., and SBI Investment, Inc., and V-cube.

Following the trend of Abenomics, the Japanese government has issued policies for strategic growth such as categorizing "Science technology innovation and Robot revolution" as a part of "The 10 biggest challenges to revolution" thus accelerating the development, improvement and market expansion for robot technologies. In designated areas, the discussion of establishing special sectors dedicated for development of automated and unmanned aerial machineries as well as using drones (small unmanned aerial device) to inspect civil infrastructures such as bridges and tunnels, has been brought to surface. Laws and regulations regarding the height limit and the commercialization of drones etc, are also in discussion.

Rapyuta is a certified venture from ETH Zurish University. It was founded by the members of the Raffelo D' Andrea laboratory – a world renowned lab for robot technology. Utilizing the IP, know-how and experience of technologies such as cloud robotics, dynamic control, multi-robot coordination, Raffelo D' Andrea laboratory is developing low-cost, unmanned multi-function robots for purposes such as security and inspection, etc.
Cloud robotics is utilizing the abundance of knowledge and processing ability on the cloud to control and manage robots, focusing on making lighter, smarter, smaller, lower-cost and automatic robots to bring to commercial markets.

V-cube plans to integrate visual communication services with Rapyuta's technology and enable real time streaming of videos taken by aerial drones. This is particularly useful for inspection of civil infrastructures such as bridges and tunnels, heights and places human do not have easy access to, disaster sites, and a wide range of applications for inspection and surveillance use cases.

In the future, V-cube is not only about the interaction between human to human but the interaction between human and artificial intelligence and machines. V-cube hopes to achieve a new level of visual communication.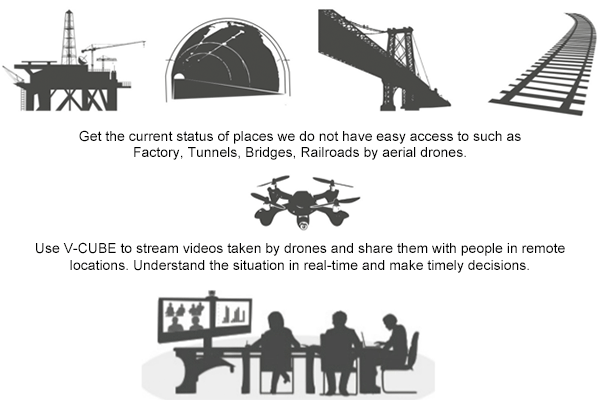 *Rapyuta Research AG handles the technological development of Rapyuta, Inc., it is certified by ETH Zurich University in Nov. 2014.

[About Rapyuta]
Business Summary: Technological development of Robot control and multi-robot systems
Cloud Robotics
Established: July, 2014
Representative: CEO Gajamohan Mohanarajah
COO Arudchelvan Krishnamoorthy
URL: http://www.rapyuta-robotics.com/