V-CUBE receives "Web Conference Japan market share leadership award" for 5th consecutive year from Frost and Sullivan
Oct. 10, 2013
V-CUBE receives "Web Conference Japan market share leadership award"
for 5th consecutive year from Frost and Sullivan
~Global market research company, Frost and Sullivan also acknowledges global business development~
V-cube Inc., (headquarter: Tokyo Meguro-ku, President & CEO: Mashita Naoaki) develops and offers Webinar, Web conference and other visual communications services that are available "anytime, anywhere, anybody" to enterprise customers. For the 5th year in a row, V-CUBE is granted "the 2013 Frost & Sullivan Japan Market Share Leadership Award in Web Conferencing" since 2009.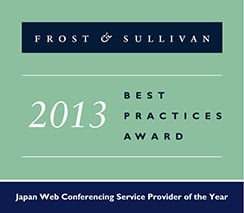 ■What is Frost&Sullivan?
Frost & Sullivan is a consulting firm that helps companies of global scale to expand and grow through global market research as "grow partnership company". In the past 50 years, Frost & Sullivan has helped 1000 companies with their growth strategy, new business model, and market investment.

■Award Summary
"The Market Leadership Award" is granted to the company that excels in market strategy and holds the No.1 market share. In terms of market isolation, program and management, market trend analysis, V-CUBE excels in all of the above requirements for market leadership award. In addition, V-CUBE has proven that its products are suitable for any changing market through strategic marketing. Striving for success through various marketing strategies had allowed V-CUBE to excel in its industry and gain the status of market leader.

■Research Method
In order to select the right company for this award, analysts tracks the revenue and market share of the candidate companies. This is done through a private resource twice and a series of internet research. Also, by conducting very strict research among the candidates, Frost & Sullivan provides the award to the winner after referring to rankings throughout industries.

■Standard Measure
There is a standard method to narrow down the winner between candidate companies through ranking. The details are as below. Multiple measurements are taken to ensure the results are fair and correct.

1.Market share
2.Profit gross rate
3.Profitability

What is V-cube?
V-cube is a service that can be used anywhere in the world so long as you are equipped with webcam, headset, and connected to the Internet. Since there is no troublesome installation of dedicated software required, anybody can easily access V-cube service. This includes a combination of features such as virtual whiteboard, document sharing, recording of meetings as well as corporate-level high security. In addition, with our 24/7 customer call center, operation instruction sessions and so on, the support system is also well equipped.