V-CUBE adds India to Global Link, further improving interconnection between countries
Jun. 25, 2013
V-CUBE adds India to Global Link,
further improving interconnection between countries
~successfully setup a stable environment for web conference among Asian countries~
V-cube Inc., (headquarter: Tokyo Meguro-ku, President & CEO: Mashita Naoaki) develops and offers Webinar, Web conference and other visual communications services that are available "anytime, anywhere, anybody" to enterprise customers. As of June 25th, 2013, V-CUBE has expanded the Global Link feature by establishing its India datacenter. As a result of this update, Global Link now consists 8 other countries aimed to maximize the globalization of Japanese enterprises in Asia.

The Internet connection between Japan and other Asian countries is often disrupted thus causing delays and connections. As a result, it is difficult to use visual communications service smoothly across these regions. On the other hand, many companies choose to purchase hardware videoconference system domestically and overseas to ensure communication, however, the cost of these hardware systems is extremely high.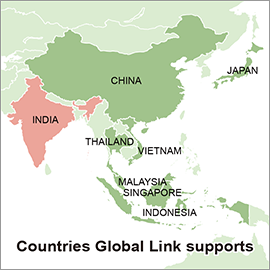 As a result, V-CUBE begin to offer a feature of V-CUBE Meeting, namely Global Link, in which local datacenters in Japan, China, Singapore, Malaysia, Indonesia, Thailand, and Vietnam, are interconnected with dedicated lease line network, to provide customers a stable, fast, and cost-effective service quality in November, 2012.

With the recent update, Global Link has included India in its network. Being the 2nd largest population in the world, as the domestic economy rapidly grows, companies from all over the world are beginning to have presence in India. To accommodate this trend, V-CUBE Meeting's Global Link feature looks to make a contribution for companies that are expanding to various Asian countries by providing a stable network environment for visual communication between whether the headquarter to subsidiaries or offices to factories.

V-CUBE, by taking business to other Asian countries, not only improves its sales and customers support structure, but also is constantly enhancing the flexibility and usability of its services tailored to Asian region. V-CUBE will continue to expand the coverage of Global Link and further support overseas activities of enterprises.

■Main Features of Global Link
- Dedicated lease line network between Japan, China, Singapore, Malaysia, Indonesia, Thailand, Vietnam, and India datacenters.

■Service Start Date
- June 25, 2013

14-day free trial is available.
Please visit https://www.vcube.com/service/meeting


[What is V-cube?]
V-cube is a service that can be used anywhere in the world so long as you are equipped with webcam, headset, and connected to the Internet. Since there is no troublesome installation of dedicated software required, anybody can easily access V-cube service. This includes a combination of features such as virtual whiteboard, document sharing, recording of meetings as well as corporate-level high security. In addition, with our 24/7 customer call center, operation instruction sessions and so on, the support system is also well equipped.