A handy tool within your mobile or PC
that connects you to an interpreter for real time interpretation

Interpretation service through your mobile device *1or PC
-Connects quickly and lets you see the interpreter-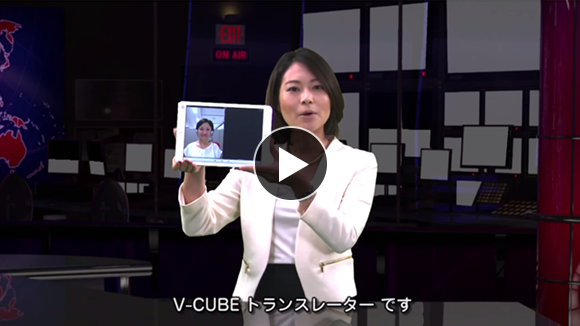 V-CUBE Translator is a cloud-based interpretation service that connects you directly to an interpreter from wherever you are. Using Pioneer VC technology, languages are interpreted in clear sound and visual in any of these languages: English, Chinese (Mandarin), Korean, Spanish, Portuguese, Thai, Russian and Japanese Sign Language. Text interpretation is provided for those who are hearing impaired (*2). The service is available 24/7, 365 days a year (*3). The interpreter appears on screen as they answer your request on the spot. This makes it especially useful for communicating with visitors to Japan.

How V-CUBE Translator Is Used
Highly Useful in Various Inbound Situations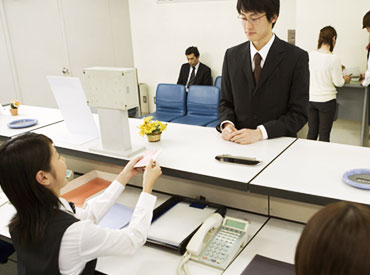 Public services, transportation, financial institutions, etc.
Inquiries from visitors and foreign residents at government offices, and during over-the-counter transactions in banks and stations.
Hotel reception
Communicating with guests when checking in or out. Also makes explaining things like hotel facilities and nearby attractions a whole lot easier.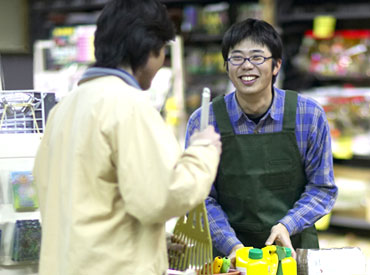 Retail outlets, shops, offices or trade-related kiosks
It's a great tool to have when giving advice on how to fill out tax refund forms and explaining the selling points of a product (or things about it to be cautious of).

Why Choose Translator?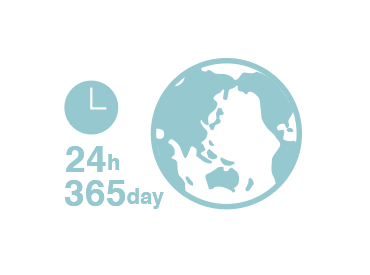 8 languages available, 24/7 service*3
Languages are interpreted between Japanese and any of these languages: English, Chinese (Mandarin), Korean, Spanish, Portuguese, Thai, Russian and Japanese Sign Language. The service is available at all times on cloud so you can connect from anywhere in the world.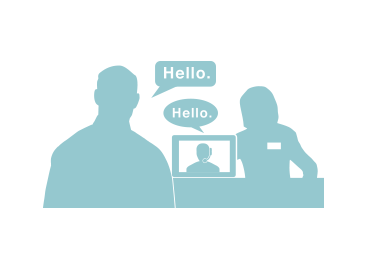 Connects you to an interpreter with minimal steps
Simply open up the function on your mobile device or PC and select a language. That's all it takes to connect to an interpreter. Three-way communication option that includes a third party PC also available.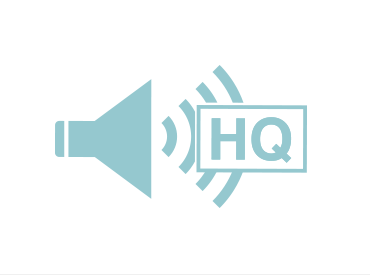 High quality sound and detailed display of data
Flawless sound quality through Pioneer VC technology enables the voice of the interpreter to be clearly heard. When connected to a PC within your office, files in the PC can also be shared.

Interpretation available signs
Businesses and services that subscribe to V-CUBE Translator will get a free sticker to put on their premises, indicating to tourists and non-Japanese speaking residents that communication will not be an issue there.
Putting the ʺuseʺ in user interface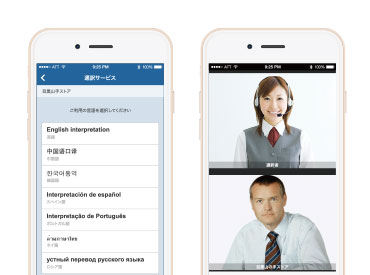 A UI that enables virtually anyone to access its functions, no matter where they are from. When a preferred language is selected on the screen of a device, an appropriate interpreter will appear on the screen ready to serve.
*8 languages available
Three-way connection option
By installing the necessary software into a third party PC, connection to the PC via mobile device or another PC becomes possible. This way, a three-way communication can be established, with the screen on the third PC also showing all three participants.
A two-way connection without an interpreter can also be made.
A two-way connection without an interpreter can also be made.
From a mobile device at an outlet, connect to an interpreter as well as a support staff located at the head office. The support staff can provide information the sales staff couldn't with the interpreter communicating the information directly to the customer.
Interpretation service through your mobile device *1or PC
Connects quickly and lets you see the interpreter

*1 Compatible mobile system: iOS for iPhone/iPad
*2 Text-based interpretation is a service where the interpreter types out their translation
*3 Thai and Russian interpetration are only available on Mon-Fri, 09:00- 18:00. Japanese Sign Language and text-based interpretation are only available 08:00-21:00.
Operating environment
For mobile devices
OS
iOS 8 and above
Compatible devices
iPad 2/iPad(3 and 4 onwards)/iPad Air/iPad Air2
iPad mini/iPad mini2/iPad mini3
iPhone 4S/iPhone 5/iPhone 5c/iPhone 5s/iPhone 6/iPhone 6 Plus
Network
TCP/IP or DHCP (either works)
IPv4
Port and protocol to use: 80 (http) or 443 (https)
Wi-Fi environment recommended
PC
OS
Microsoft® Windows 7® SP1 (32bit/64bit) or newer (Japanese or English version)
Microsoft® Windows 8.1® (32bit/64bit) (Japanese or English version)
CPU
Intel Core™2 Duo 1.86GHz 以上
Intel Core™ i5 and above recommended
Memory
1GB and above
Network
TCP/IP or DHCP (either works)
IPv4
Port and protocol to use: 80 (http) or 443 (https)