V−CUBE opens collaboration office in Singapore for corporation looking to expand to markets overseas
Nov. 5, 2012
V−CUBE opens collaboration office in Singapore
for corporation looking to expand to markets overseas
~Provide office space to support corporation collaboration and discover opportunities for new business~
V-cube Inc. (Headquartered in: Meguro-ku, Tokyo, CEO & President: Naoaki Mashita), who specializes in Web-conferencing and Webinar solutions that accomplish visual communication services available "anytime, anywhere, anybody," opened its collaboration office in Singapore in Nov. 2012. Its goal is to offer a space where like-minded and skilled individuals from different companies can network together and help each other explore opportunities of expanding their business.

As an important strategic point of global market expansion, V-CUBE established Singapore R&D Centre in January 2012, which drew the eyes of locals. The background is to have easy access to Asian countries, easy to approach high growth market, easy to gather global talents.

V-CUBE's new collaboration office is to help encourage venture companies to take their business overseas by providing an office space where employees can share experience, knowledge, and people's network, so businesses can continue to move forward. V-CUBE plans to make this office a space where at the same time of respecting and helping each other improve, occupant companies can push their business forward.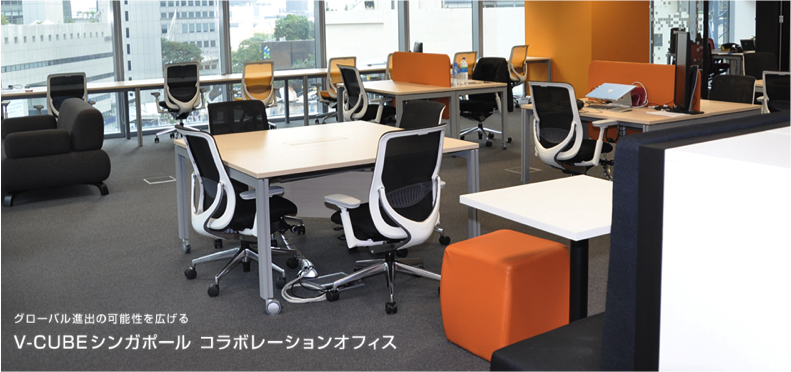 This office to solve the communications problems of companies which plan to break into overseas market from Singapore

Main advantages
1) People's network and opportunities for collaboration
Singapore is a country where many businesses from all over the world reside. Business opportunities are plenty but the competitor is fierce, it is said that to began a business and grow its size requires opportunities of cooperation and people's network. As a result, V-cube's collaboration office is not equipped with individual stalls but instead a space where it is easy to communicate with others.

2) An environment for making communication more convenient
In order to improve the communication with not only Japan headquarters, but also between occupants and local companies, this office space also makes it easier to use V-CUBE Services. Also, located in the heart of Singapore, right by raffles place, makes commuting much more convenient.

For V-cube, this isn't just about having a collaborations office; this is also another important foot step for pushing its services to the global market.

[Collaboration office summary]
- Location: 10 Collyer Quay #03-06 Ocean Financial Centre Singapore 049315
- Fees: Initial fee: S$1,000/person, Monthly fee: S$1,500/person*month (not including GST)

[What is V-cube]
V-cube is a service that can be used anywhere in the world so long as you are equipped with webcam, headset, and connected to the Internet. Since there is no troublesome installation of dedicated software required, anybody can easily access V-cube service. This includes a combination of features such as virtual whiteboard, document sharing, recording of meetings as well as corporate-level high security. In addition, with our 24/7 customer call center, operation instruction sessions and so on, the support system is also well equipped.

V-cube's product lineup is, V-CUBE meeting (Web-Conferencing), V-CUBE Seminar (up to 10,000 simultaneous base points for hosting webinars), V-CUBE Document (accomplishing energy saving), V-CUBE Voice (audio conference system via normal telephone line), V-CUBE Sales & Support (one on one highly interactive communication), V-CUBE Video (making it possible to access on-demand corporate and product introduction), and V-CUBE Portal (management of all V-cube contents). Our system is now used by 3,000 enterprise customers in Japan alone.

■V-cube, Inc.
・Company name : V-cube, Inc.
・Address : 20F, Nakameguro GT Tower, 2-1-1 Kami-Meguro, Meguro-ku, Tokyo, Japan
・President & CEO : Naoaki Mashita
・Date of foundation : October 1998
・Description of business: Development and sales of visual communication tools
・URL: http://www.vcube.co.jp/(Corporate Site)
http://www.nice2meet.us/(V-CUBE Service Site)

■Contact
V-cube, Inc., PR & Marketing Department
TEL:03-5768-3308 FAX:03-5501-9676 E-mail: release@pj.vcube.co.jp