V-CUBE One Portal

This function delivers optimum content management to the fields of education and training. While similar services are offered by other brands, they usually require a separate fee. One Portal is complimentary with the subscription of V-CUBE One.
Combine V-CUBE Seminar live webinars and On Demand video content as well as test paper and questionnaire content to send to users. Not only that, course status and learning levels can be determined all in one go. By analyzing these data and refining future content based on them, the quality of education and training can only become better.
Main functions
Content registration
Live webinars presented through V-CUBE Seminar and On Demand video content, web meetings held via V-CUBE Meeting, answering and grading of diagnostic tests, questionnaires and more. Combine all these and register them as ʺdeliverable contentʺ.
Content delivery settings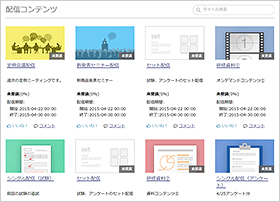 Set deliverable content to expire or remain, sequence of course content by item, and select group or users content will be delivered to. Once content is registered, the ones set as course material will be displayed on the user's dashboard screen.
User's course material and reminder function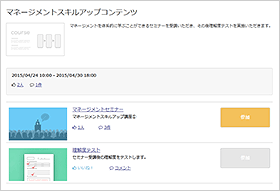 Users are able to see the content on their dashboard and access them whenever they want. Reminder functions like notification alerts and calendar are also available to prevent users from forgetting their coursework.
Check course status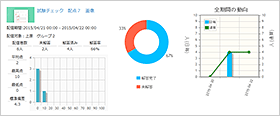 Check on things like item view count summarized by group or by user, number of likes and all comments that have been submitted.
Sharing of files in storage
One sign-in, multiple V-CUBE services
Sign in just once to use various services. Once you're in, you can seamlessly switch between V-CUBE Meeting, V-CUBE Seminar and V-CUBE Sales and Support without having to sign in again.
Usage scenarios
Personnel acquisition of qualification (example industries: education-related, manufacturing, finance, insurance, etc.)

To faciliate employees' efforts in acquiring qualification, create and deliver to them live seminars and On Demand video content as study material. Access of material will be managed and tracked via the user account of the candidate.
Outcome
By checking progress of webinars viewed by each candidate, missed lessons can be avoided and mock tests can be run. This raises the number of 'attendance' and level of understanding which, in turn, increases the number of successful qualifications.
Educating staff on new products (example industries: manufacturing, finance, insurance, distribution, etc.)

Material containing data on new company products distributed when everyone was physically gathered in a single location can now be distributed to employees in the form of online training. Tests to check their understanding can also be run.
Outcome
Until now, whenever there is a new product, companies are forced to go through the logistics of organizing a training event. With this, employees can now access training material whenever they are not busy with work, raising the overall effectiveness of the endeavor. With tests to check understanding, it's now possible to ascertain exactly how much an employee has learned about the new product they studied. When understanding proves to be shaky, measures can be taken to cement knowledge such as sending further information and the like.
Large capacity and nationwide training events (business industries: manufacturing, financial, insurance, retail, etc.)

When a training event involving a lot of people from all over is organized, it is usually done in a way that require people to travel to one location, incurring huge expense. That or the event becomes separated into smaller ones by location, which then leads to inconsistent quality of training in each location, causing fluctuating levels of understanding among employees. Switching to live seminar enables every employee to receive training from their very own PCs or mobile devices.
Outcome
Businesses that span the entire country and even outside of it with thousands upon thousands of employees can now provide all their staff with the exact same quality of training. Training status and understanding level can also be monitored from one place. High training quality can be maintained, greatly bringing up the average ability of employees and, in turn, raise overall productivity.