Visual communication, all in one
V-CUBE One is a collection of V-CUBE's most popular services in one neat and simple package for easy use with a new kind of rate structure.
Usage scenario, intended purpose, usage plan, etc. You no longer need to worry about those because One is a solution for all. It is highly flexible and optimized for all manners of businesses.

Various kinds of services
Each V-CUBE service aligns itself perfectly to your business objectives giving you the freedom to choose the one that best suits your purposes at any given time.

Use from any machine or device
Mac or PC, smartphone or tablet, our services are compatible with all. It doesn't stop there, however. Configurable to work with a large variety of environment, our services can also be synced with a video conferencing system, among others.

Adaptable to different areas of usage
Freedom to use any of the available service within the subscribed parameters. You can also change those parameters at any time such as adding endpoints or expanding your work scope.
Services available in V-CUBE One
One license. That's all it takes to use them all. For more information on individual services within the package, please visit their individual pages below.
Introducing Portal: Content management for educating and training purposes at its best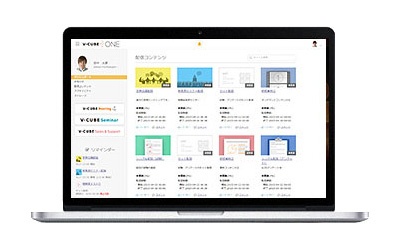 We are proud to bring to you Portal, a comprehensive function that manages your content as well as deploys it in the appropriate fashion. Perfect for use in education and training and available free for V-CUBE One subcsribers.
Compiles, manages and combines live webinars presented through V-CUBE Seminar and On Demand video content, as well as tests and questionnaires and more, to be sent out to users. Also enables checking of course status and tracking of progress.
Ideal for a wide variety of businesses
Briefings, seminars, education and training, customer support, remote learning. From real time to On Demand (recorded video for delayed viewing), purposes big and small, all manners of communication matters within the business environment are taken care of.